.~`~.
I
World getting 'super-aged' at scary speed
The world is graying at a break-neck pace and that's bad news for the global economy. By 2020, 13 countries will be "super-aged" - with more than 20% of the population over 65 - according to a report by Moody's Investor Service. That number will rise to 34 nations by 2030. Only three qualify now: Germany, Italy and Japan.
"Demographic transition ... is now upon us,"
warn Elena Duggar and Madhavi Bokil, the authors of the Moody's report. "The unprecedented pace of aging will have a significant negative effect on economic growth over the next two decades across all regions." They cite Conference Board estimates that rapid aging will knock nearly one percentage point off global growth rates over the next decade.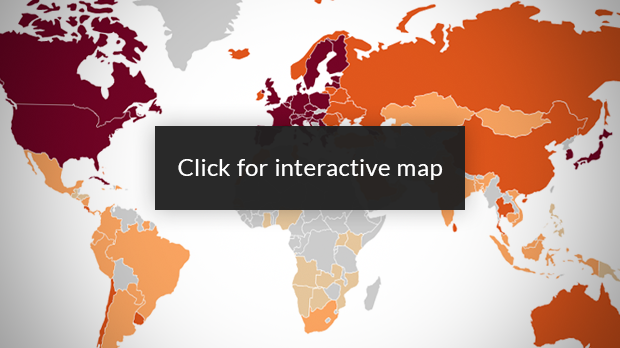 According to Moody's, Greece and Finland will turn "super-aged" next year. Eight countries, including France and Sweden, will have joined them by 2020. Canada, Spain and the U.K. will be "super-aged" by 2025, and the U.S. will follow by 2030. The problem isn't confined to Europe and North America. Singapore and Korea will be in that category by 2030, while China will also face "severe aging pressures."
But policymakers can minimize the impact by encouraging immigration to expand the workforce, and by investing in technology to help workers become more productive. Other measures could include policies to keep people in work by raising the retirement age or enticing stay-at-home mothers to return to their jobs.
.~`~.
II
UN global migration statistics reveal
232 million international migrants living abroad worldwide
There are as many international migrants born in the South living in other countries in the South as in countries in the North, reflecting changing patterns of Asian migration, but globally the United States remains the most popular destination, according to new data presented by the United Nations today.
More people than ever are living abroad. In 2013, 232 million people, or 3.2 per cent of the world's population, were international migrants, compared with 175 million in 2000 and 154 million in 1990.
The new estimates include breakdowns by region and country of destination and origin, and by sex and age. The North, or developed countries, is home to 136 million international migrants, compared to 96 million in the South, or developing countries. Most international migrants are of working age (20 to 64 years) and account for 74 per cent of the total. Globally, women account for 48 per cent of all international migrants.
South-South is as common as South-North migration
The data show that South-South migration is as common as South-North migration. In 2013, about 82.3 million international migrants who were born in the South were residing in the 2 South, which is slightly higher than the 81.9 million international migrants originating in the South and living in the North.
Asians and Latin Americans living outside of their home regions form the largest global diaspora groups. In 2013, Asians represented the largest group, accounting for about 19 million migrants living in Europe, some 16 million in Northern America and about 3 million in Oceania. Migrants born in Latin America and the Caribbean represented the second largest diaspora group with the majority, 26 million, living in Northern America.
In 2013, South Asians were the largest group of international migrants living outside of their home region. Of the 36 million international migrants from South Asia, 13.5 million resided in the oil-producing countries in Western Asia. International migrants originating from Central America, including Mexico, represented another large group of migrants living outside their home region. About 16.3 million, out of 17.4 million Central American migrants lived in the US.
Most migrants live in Europe and Asia
Europe and Asia combined host nearly two-thirds of all international migrants worldwide. Europe remains the most popular destination region with 72 million international migrants in 2013, compared to 71 million in Asia. Since 1990, Northern America recorded the largest gain in the absolute number of international migrants, adding 25 million, and experienced the fastest growth in migrant stock by an average of 2.8 per cent per year.
"New sources and destinations of migrants are emerging, and in some cases, countries have become important points of origin, transit and destination simultaneously," said John Wilmoth, Director of the Population Division in the UN's Department of Economic and Social Affairs.
Compared to other regions of destination, Asia saw the largest increase of international migrants since 2000, adding some 20 million migrants in 13 years. Mr. Wilmoth said this growth was mainly fuelled by the increasing demand for foreign labour in the oil-producing countries of Western Asia and in South-Eastern Asian countries with rapidly growing economies, such as Malaysia, Singapore and Thailand.
International migration remains highly concentrated
In 2013, half of all international migrants lived in 10 countries, with the US hosting the largest number (45.8 million), followed by the Russian Federation (11 million); Germany (9.8 million); Saudi Arabia (9.1 million); United Arab Emirates (7.8 million); United Kingdom (7.8 million); France (7.4 million); Canada (7.3 million); Australia (6.5 million); and Spain (6.5 million).
The US gained the largest absolute number of international migrants between 1990 and 2013—nearly 23 million, equal to one million additional migrants per year. The United Arab Emirates recorded the second largest gain with seven million, followed by Spain with six million.